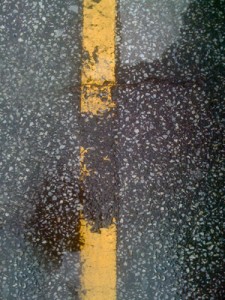 La linea , meta y origen / The line, beginning and end.
"Art, like morality, consists in drawing a line somewhere."
G.K. Chersterton (1874-1936)
Los artistas son siempre inmigrantes, viajeros de la nostalgia ,muchas veces expulsados o desterrados por propia voluntad, ilustrando circulos ambulantes de idas y regresos, mito y  testimonio-manifiesto cultural del descubridor.
Yo también decidí partir y hacer mi propio camino, tratando de escapar a la influencia dominante del pensamiento fosil nacional.
Al cruzar la linea, marcas del miedo, fui condenado al regreso y el olvido.